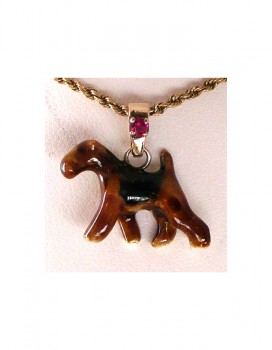 Small enough to wear every day or with other pendants!
 Choose your Gemstone
Want this to be your Airedale?   Just EMAIL photos for our artist.
Size: Approx. 5/8" x 5/8" x 1/4" deep
Weight: Approx. 3.5 grams in 14K Gold
Marvelous personalized enamel artwork Airedale on 14K Gold. Pendant only.
Other Views
Click on photos for closeup images