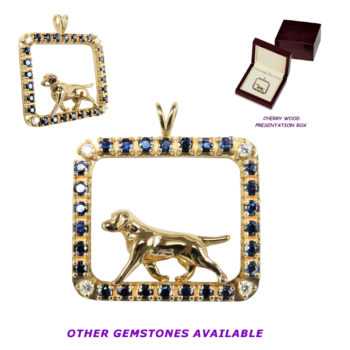 Scroll down for more views
Your choice of genuine gemstones frame and highlight our trotting Labrador Retriever.
Shown with Sapphires and Diamonds.
Size: 1.1" across x 1" high x 1/8" deep
Weight: N/A
A piece to treasure. Over an inch wide, this design is shown with blazing Sapphires and sparkling Diamonds on each corner. The Labrador is stunningly showcased in this gemstone frame. Sterling Silver options and other gemstones are available, always with the corner diamonds.
Other Views
Click on photos for closeup images