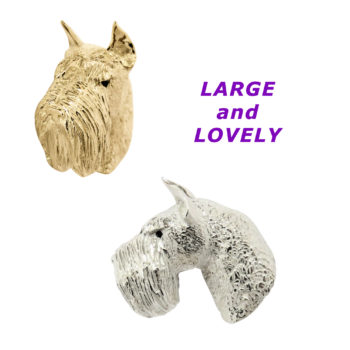 Scroll down for more views
Large and Lovely, truly representing the Giant Schnauzer.
Black Diamond Eye.
Size: 1 1/8" across x 1 1/4" high x 1/8" deep
Weight: Approx. 19.4 grams of 14K Gold
The hidden bail on the back of this gorgeous head makes it perfect to wear on an Omega or Leather chain. Black Diamond Eyes are the finishing touch, whether you choose gold or silver. We can add a precious gemstone collar ! Think Diamonds! Call Kathy at 203-733-2793 for options.
Other Views
Click on photos for closeup images