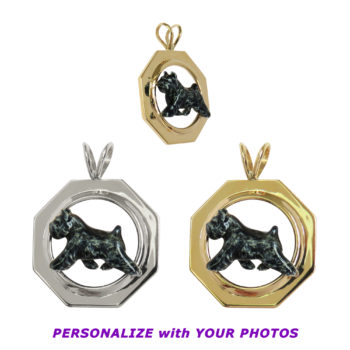 Scroll down for more views
Our 14K Gold or Sterling Silver Octagon Features our Gorgeous Bouvier with
exclusive enamel overlay created by our artist here in the USA.
Make it personal!
EMAIL your Bouvier photo after you complete your order.
About Our Enamels
Find the Perfect Chain
Size: 1" x 1" x 1/8" deep
Weight: 9.5 grams in 14K
Our classic octagon surrounds the true to life Bouvier. The enamel artwork, created by our artist in here in the USA, is permanent and guaranteed. Just email a Bouvier photo to customize. A marvelous piece for your Bouvier collection. Our velvet gift box is the final touch for a special gift.
Other Views
Click on photos for closeup images