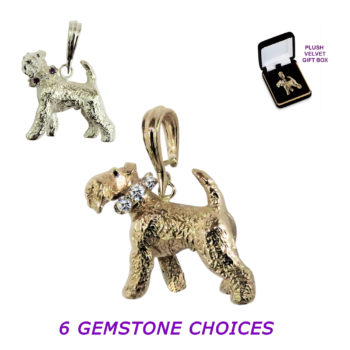 Scroll down for more views
The Airedale's turned head is looking right at you !
The Gemstone collar adds that necessary sparkle.
Size: 1 1/4 x 1 1/4" x 5/16" deep
Weight: 18.6 grams in 14K Gold
A stunning 3D Airedale sculpture with a genuine gemstone collar - Your choice of 6 fabulous options. Black Diamond eye. Photos do not do justice to this piece. Need a different gem? Just call Kathy at 203-733-2793. Happy to help!
Other Views
Click on photos for closeup images