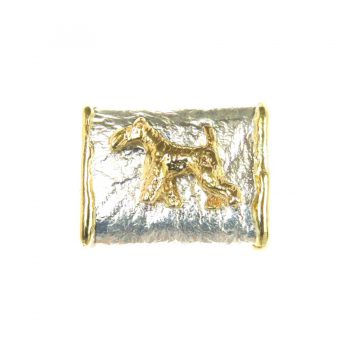 Scroll down for more views
Marvelous design  !  Two pendants in one !
Can be worn on the reverse PLAIN side
Also works well with scarves
Size: 1 1/4" x 9/10"
Weight: 6.4 grams of 14K Gold as Wire Fox, plus 14K hand edging
Artist Shelli has created this stunning Sterling Loop pendant, finished with Sherri unique 14K fusion edging. This stunning pendant is used here as a backdrop for our Wire Fox Terrier in 14K Gold Oh yes, it will NOT tarnish !
Other Views
Click on photos for closeup images