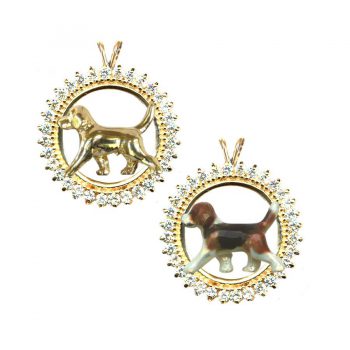 A Classic Piece that stands the test of time.
6 Gemstone Choices.
All Diamonds are always a favorite.
Or choose Diamonds with Rubies, Emeralds, Sapphires, Amethysts, or Tanzanite.
To personalize with our custom enamel artwork, using a photo of YOUR Beagle,
call Kathy at 203-733-2793    About Our Enamels

Size: 7/8" Diameter x 1/8" deep
Weight: Approx. 7.2 grams in 14K gold.
A treasure !! Approx. 1.2 Carat of Gemstones.
Other Views
Click on photos for closeup images