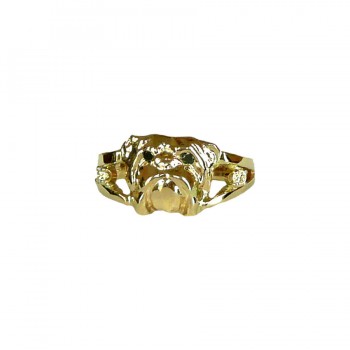 As comfortable as it is beautiful !
Perfect for every day wear; nothing protrudes, nothing sharp.
ONLY ONE AT THIS UNBELIEVABLE PRICE !
 Black Diamond Eyes gives the final touch to this gorgeous Bulldog ring.
Size: Head Size: 1/2" x 1/3" x 1/16" deep
Weight: Approx. 7.0 grams in all 14K Gold for Size 7
Our sturdy and beautiful Y Shank surrounds the beautiful Bulldog head. Two genuine gemstones highlight the Bulldog head. Choose online or call Kathy at 203-733-2793 for other gemstone choices. Most Gemstones available. Black diamond eyes give the final touch.
Other Views
Click on photos for closeup images