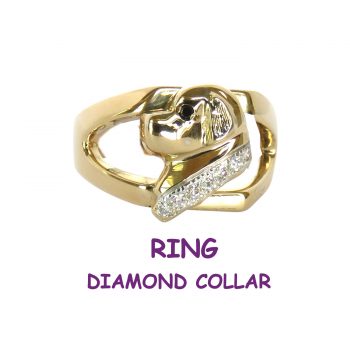 Scroll down for more views
ONLY ONE in Stock at this UNBELIEVABLE PRICE ! 
SIZE 7.5   FREE RE-SIZING
Every Newf should have a Diamond Collar !
A marvelously comfortable ring !
Size: Head is approx. 1/2" x 1/3" x 1/16" deep
Weight: Approx. 10 grams in 14K Gold
As comfortable as it is beautiful. The Black Diamond eye adds the final touch. White diamond eye available on request; also other gemstones for the collar. Just call me, Kathy, at 203-733-2793 to customize. Happy to help.
Other Views
Click on photos for closeup images