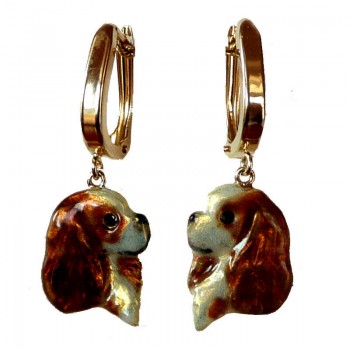 Marvelous Earrings !
Be adventurous–Order 1 Blenheim and 1 Tri-color OR 1 Ruby and 1 Black-Tan
YOU DECIDE!
Available with lever backs as shown, or as posts.
ALL 4 Colors are AMAZING when our artist uses YOUR photo of YOUR Cavalier !
Just EMAIL a photo for our artist.
Size: Each head approx. 1/2" x 1/2" x 1/8" deep
Weight: Approx. 3.5 grams of 14K Gold for each earring.
Perfectly adorable !
Other Views
Click on photos for closeup images