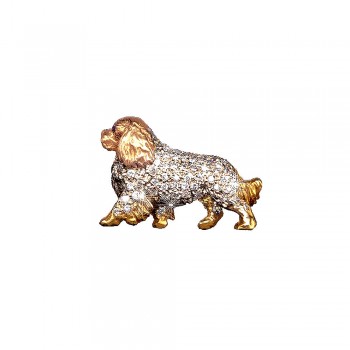 CLOSEUP SHOWN BELOW
The Diamonds say it all !
G color VS1
A Black Diamond Eye gives the final touch to this Cavalier.
Size: 1.25" x 1" x .25" deep
Weight: Approx. 12.1 grams, in all 14K Gold
1.75 Carats of full cut hand set Diamonds blaze from the body of our Cavalier. The ears, tail and feet are shine in 14K, providing definition and contrast to the diamonds. This stunning Cavalier has a Black Diamond eye.
Other Views
Click on photos for closeup images