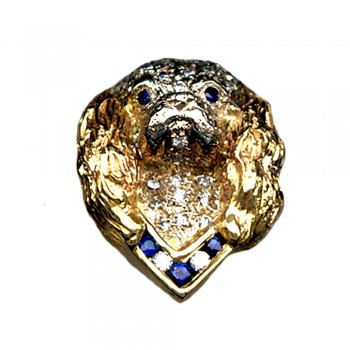 Our magnificent Cavalier head sparkles to life with diamonds !
The silky ears are left in plain gold to show the flow of hair and to contrast with the Diamond Pavé
6 Gemstone Choices for the encircling collar.
Shown with Diamonds and Sapphires.
This photo, taken 15 years ago, does not BEGIN to do this piece justice!
Size: 1" high x 7/8" wide x 1/4" deep
Weight: Approx. 12.5 grams in 14K gold.
Approx. 1 Carat of Full Cut Gemstones enhance the Cavalier profile. Diamonds are G Color, VS1 Black Diamond Eyes adds sparkle to the features.
Other Views
Click on photos for closeup images