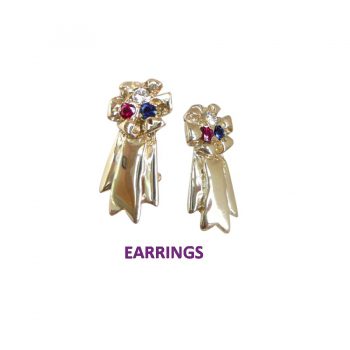 Scroll down for more views
You will LOVE these earrings !
A top quality Diamond, Ruby and Sapphire declare your Best in Show.
Available as lever-backs or posts.
The posts have Omega clips to prevent loss.
Diamonds are G color; VS1 Clarity
Size: Each earring is 1" x 1/2" x 1/16" deep
Weight: 8.2 grams in 14K gold per pair
Whether posts or leverbacks, you will LOVE these earrings. A marvelous statement at dog show events and lovely enough to wear anywhere, anytime. Genuine gemstones, of course. The Omega clips on the post version prevent loss through slipping backs. Call Kathy at 203-733-2793 for other gemstones.
Other Views
Click on photos for closeup images